Oh, Positano. I think I found my little slice of heaven on the Amalfi Coast.
Joe and I celebrate birthdays only 1 week apart, and with his 30th birthday and my "golden birthday" falling in the same year, we decided to plan the trip of all trips. Additionally, our good friends who live in Austria were practically begging us to come visit. So after doing some research, we decided to begin our trip on the Amalfi Coast, head to Paris, then to Cologne (for Joe's bucket list experience: Nurburgring), Vienna, and finally Prague. It was the trip of a lifetime and I'm so glad we took the plunge and made it happen.
Getting to the Amalfi Coast is very easy with just a little planning. We flew from Chicago to Naples International Airport and had a car service arranged to take us directly to Positano city center. Because we shared a van with a few others, the price was very reasonable at 35 euros each. I prefer this method of transport over using the trains and buses for convenience and saving time. The drive from Naples to Positano is just over an hour, and once you hit the coast line from Sorrento to Positano, the views are priceless.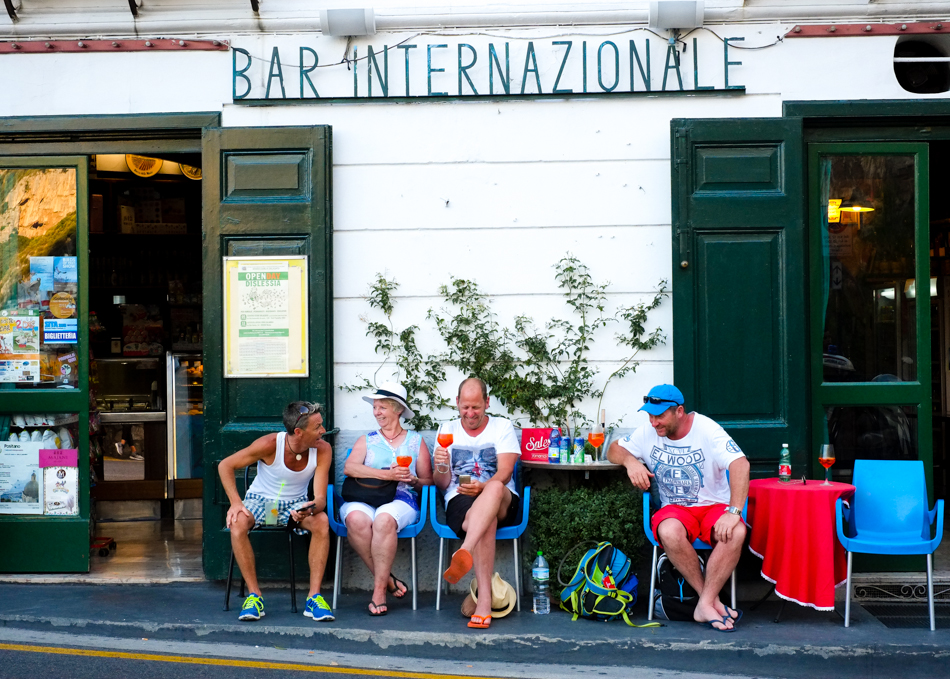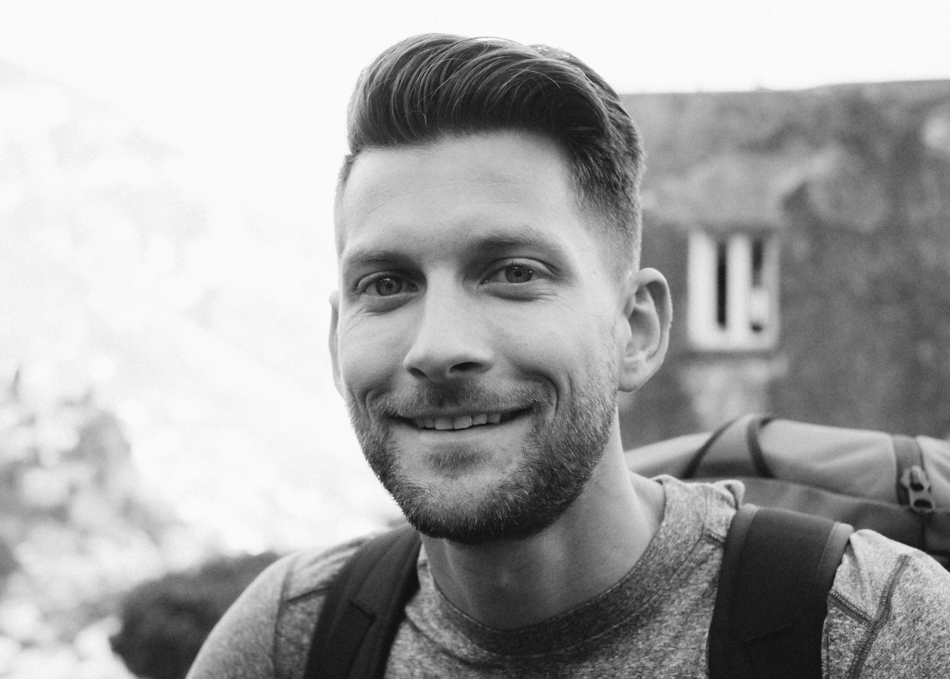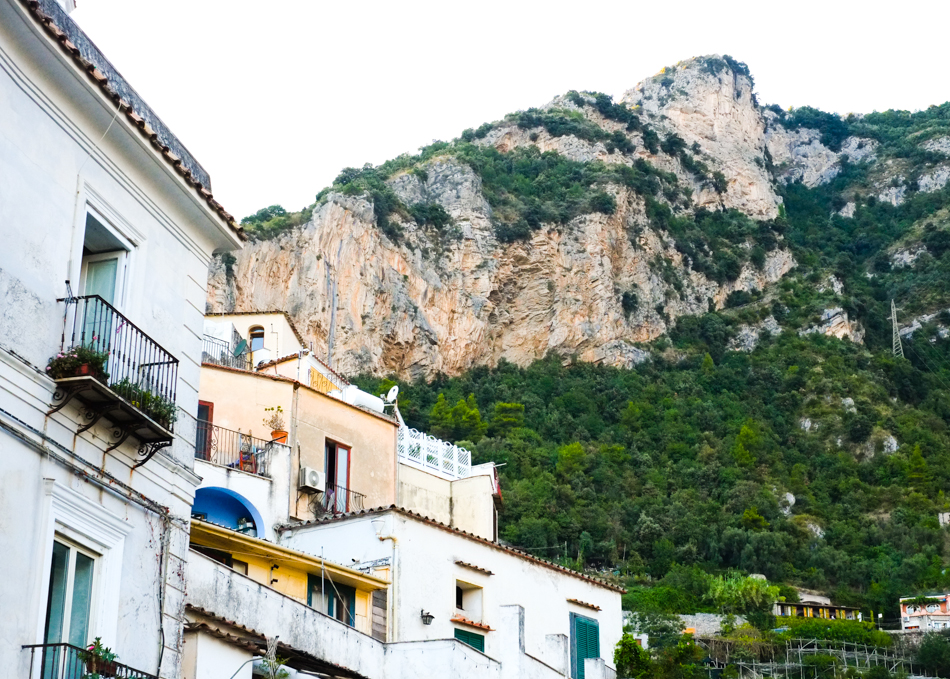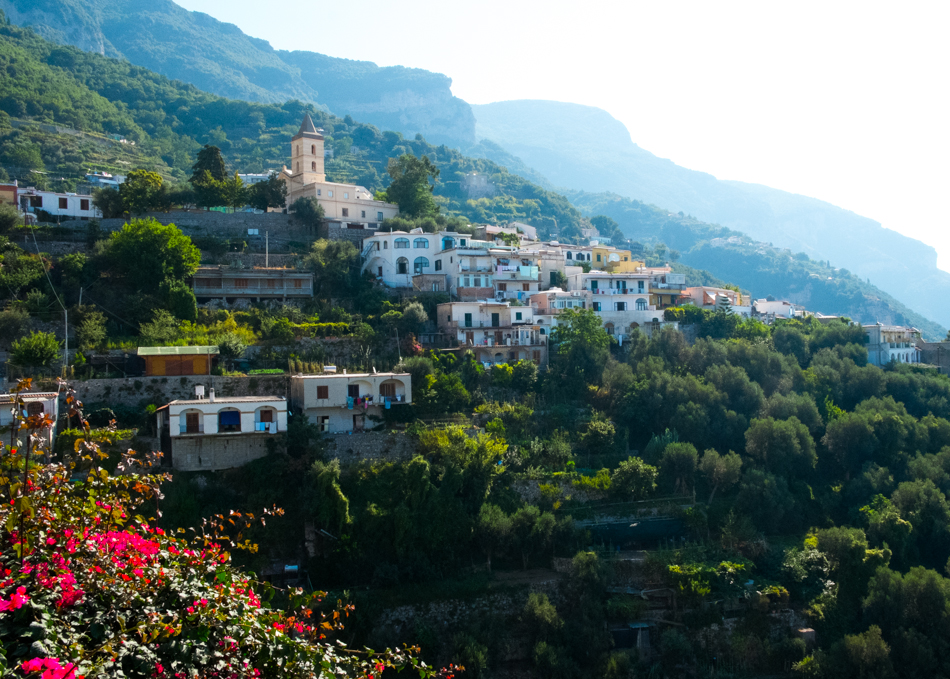 After being dropped off by our shuttle in front of Bar Internazionale, we made our way up to our AirBnb in Montepertuso, a little village directly above Positano. We chose to stay in Montepertuso in a private apartment because we wanted more of a local feel. The little village is only a 10 minute ride up from Positano by bus, and tickets are very inexpensive at 1,15 euros each. The Montepertuso bus also runs early morning to late at night, so it's easy to spend all day down in Positano without worrying about missing your bus later. We enjoyed returning to the quiet and peaceful Montepertuso after a long day adventuring, savoring a glass of wine on one of our balconies overlooking the coast. There was a small grocery/convenience store just down the street which had everything we needed, including a great selection of wines, pasta, fresh vegetables and fruit, meats, cheeses and desserts. One of our favorite restaurants, Il Ritrovo, was also just down the street. And the hike up to Montepertuso Rock was absolutely spectacular. In about 15 minutes, we climbed 400ft to what felt like the top of the world. If you are planning to hike the Sentiero degli Dei, Montepertuso is also a great starting point for this panoramic footpath along the Amalfi Coast.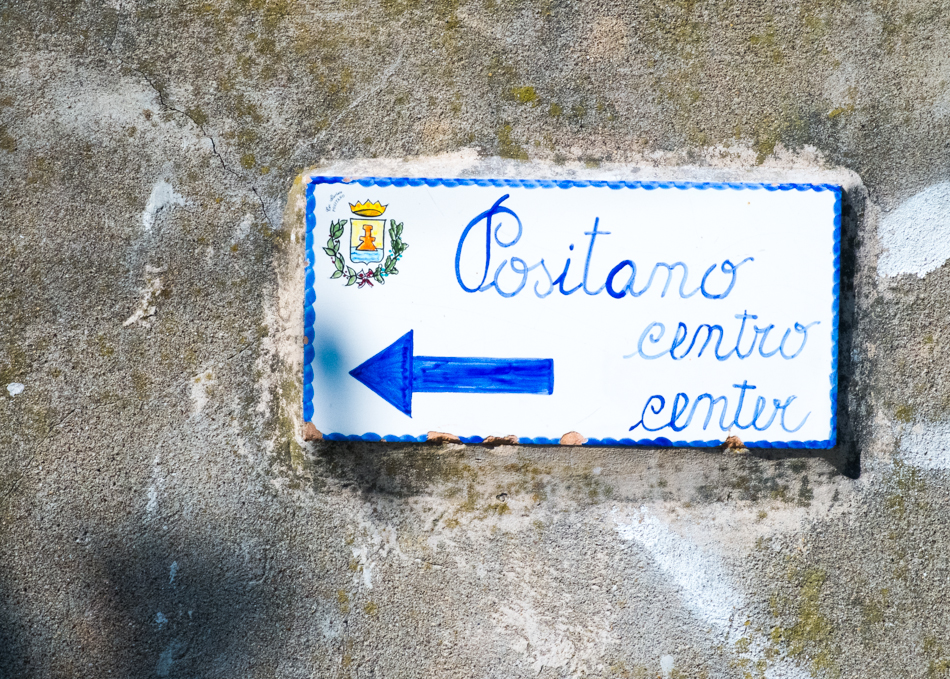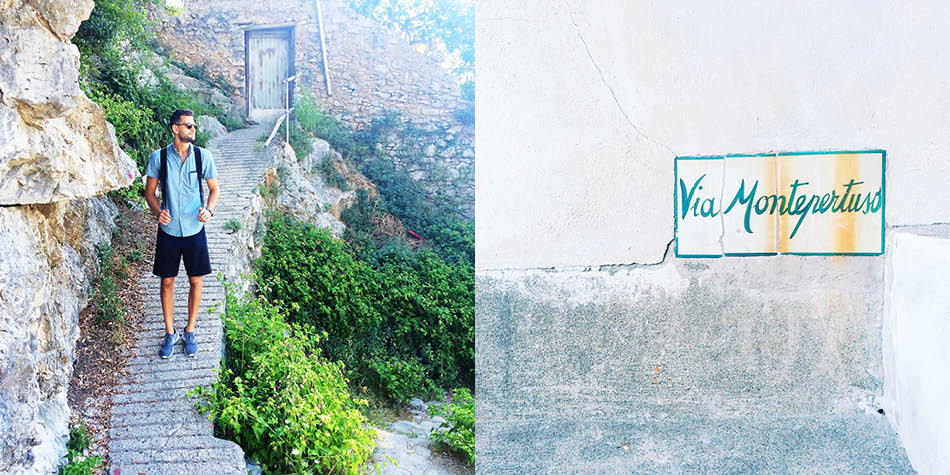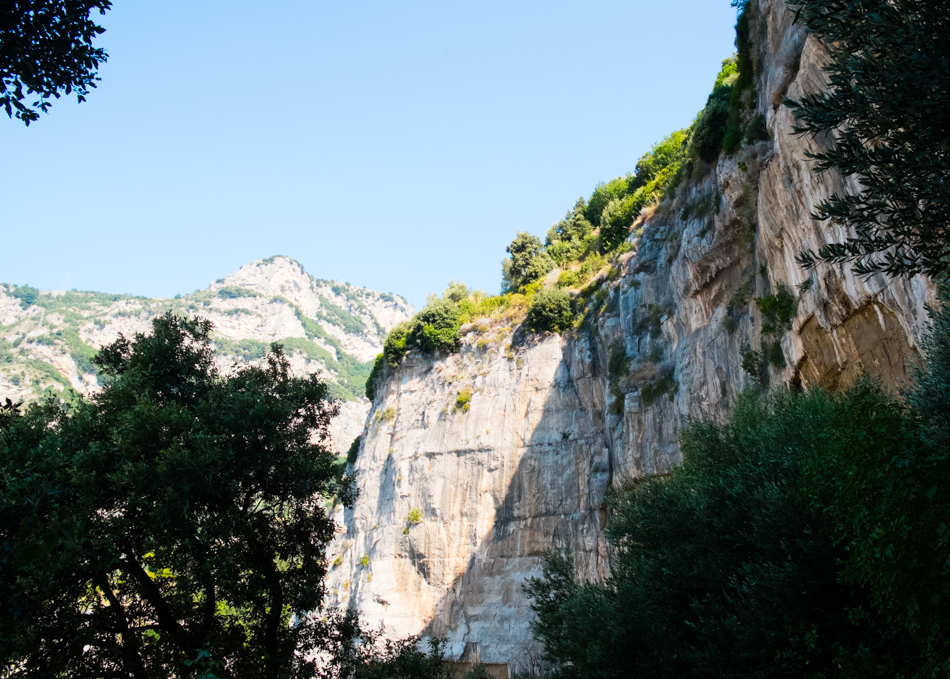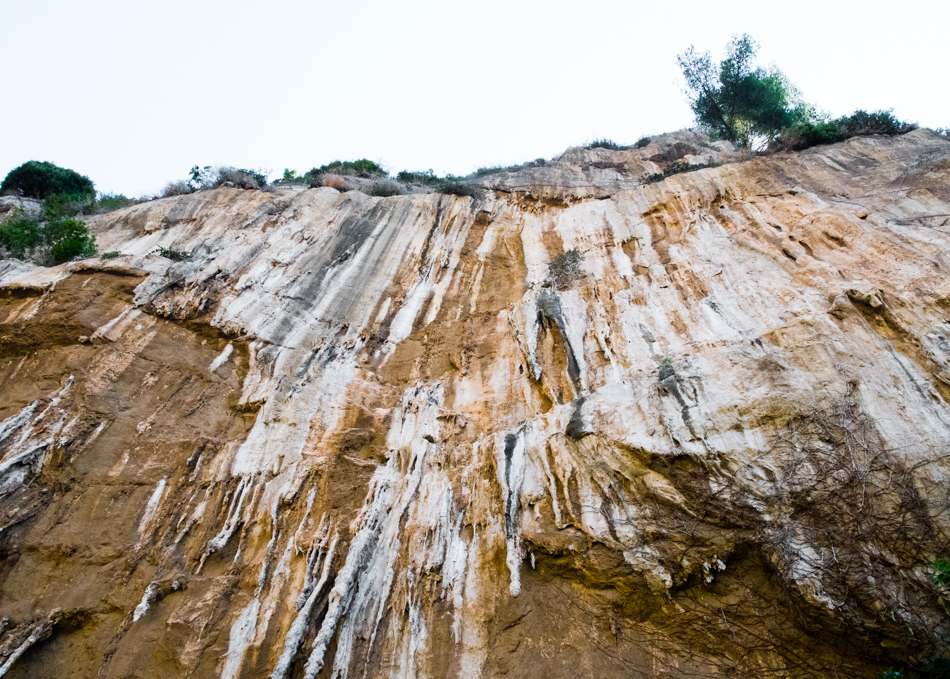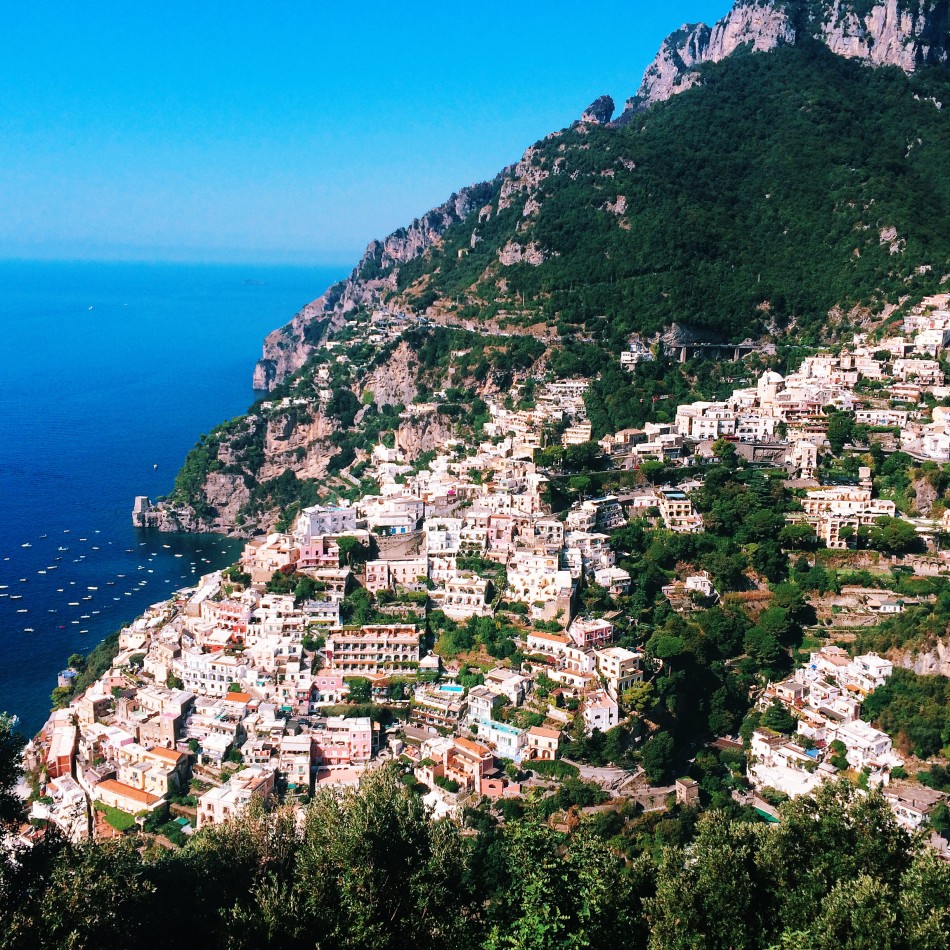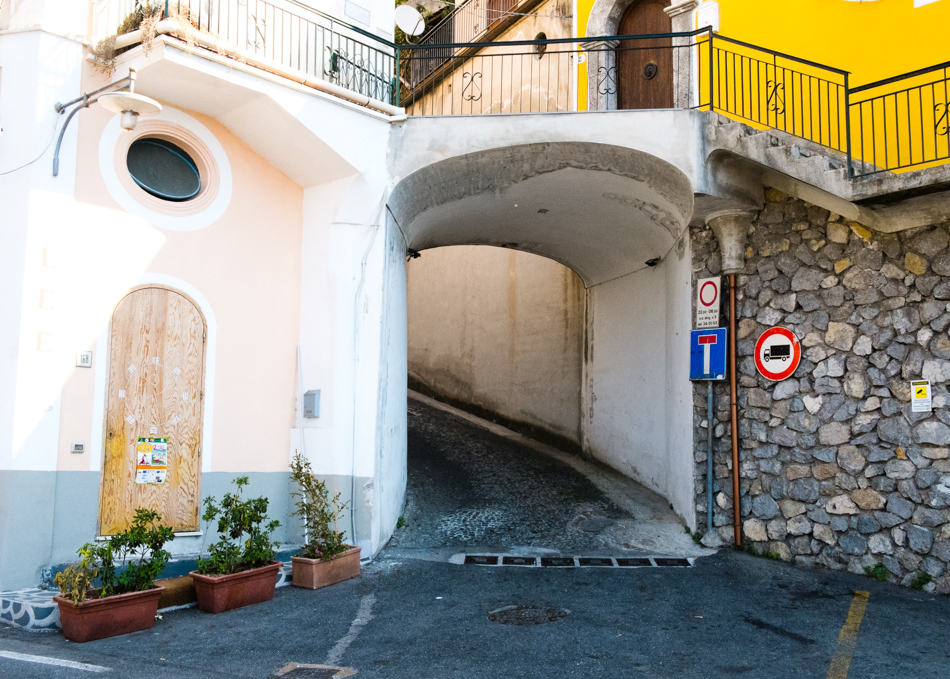 Our first morning, we decided to take the steps all the way down to the beach. And not just a few steps, we're talking over 1500 steps down! But the views were absolutely beautiful. And after winding your way down the cliffside, you exit out this little passageway right into the heart of Positano. I would highly recommend making this hike regardless of where you stay. We ended up walking down twice, as well as hiking up twice. But what better way to burn off all the pasta and gelato than getting in a little exercise with scenic views!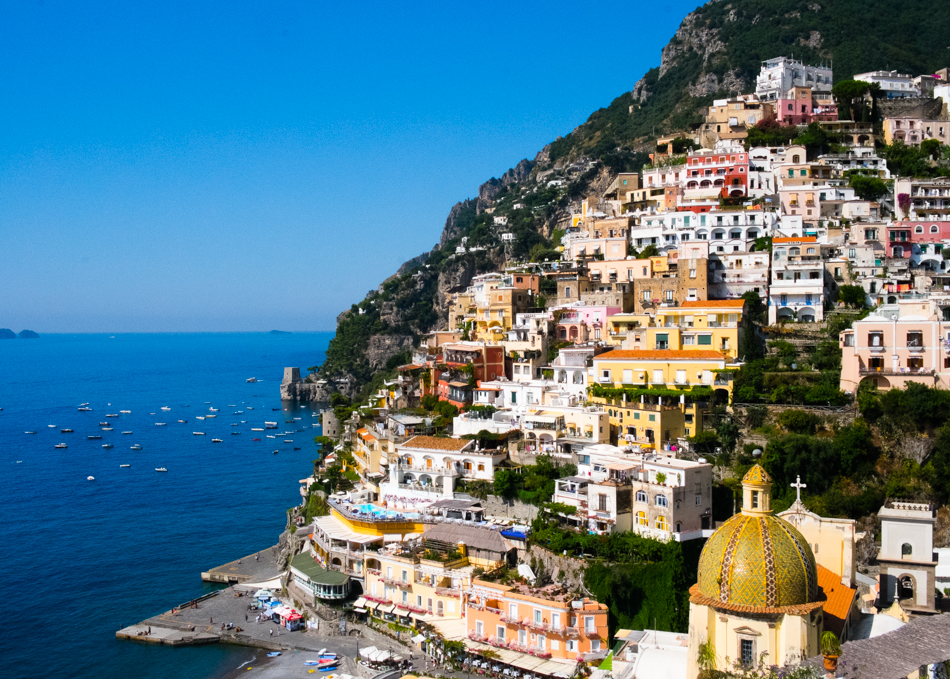 Every direction you look in this beautiful cliffside town is spectacular. But for one of the absolute best views, head over to Hotel California and pop under their covered parking lot. From here you have the perfect unobstructed view to get the quintessential Positano snapshot.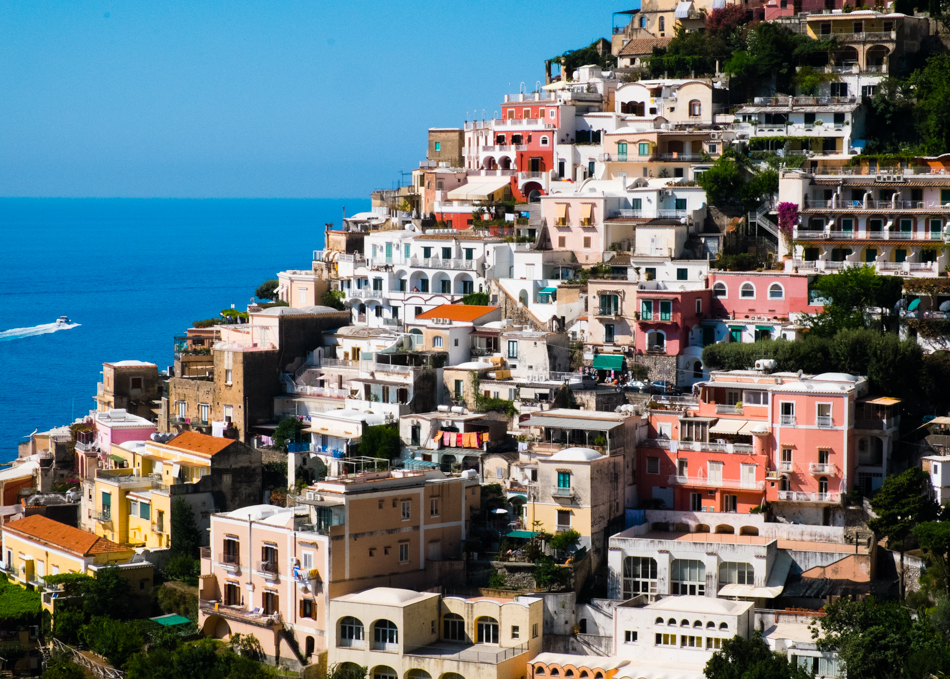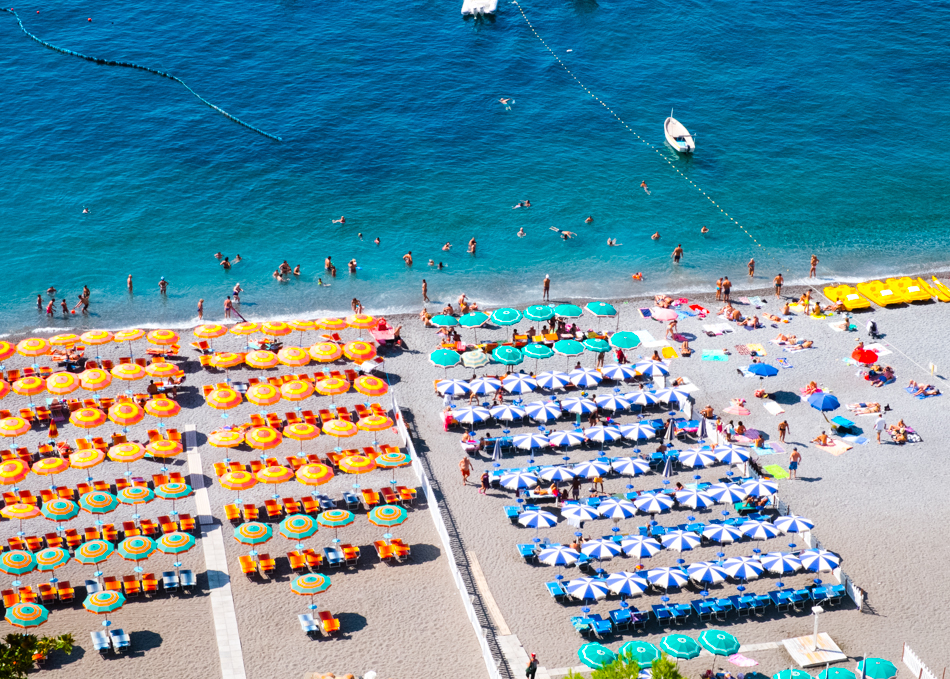 Spiaggia Grande is the main beach in Positano. Here you will find chairs for rent as well as an open area where you can use your own chair or beach towel.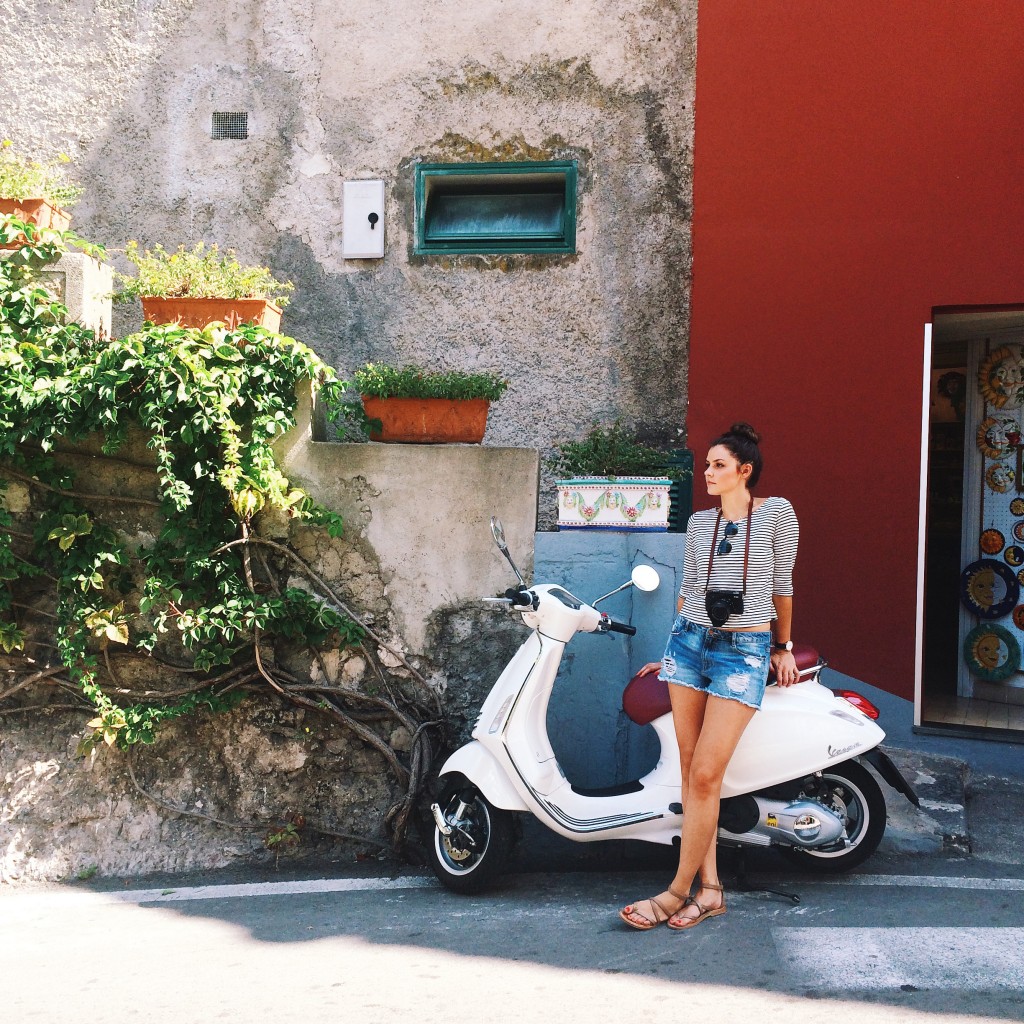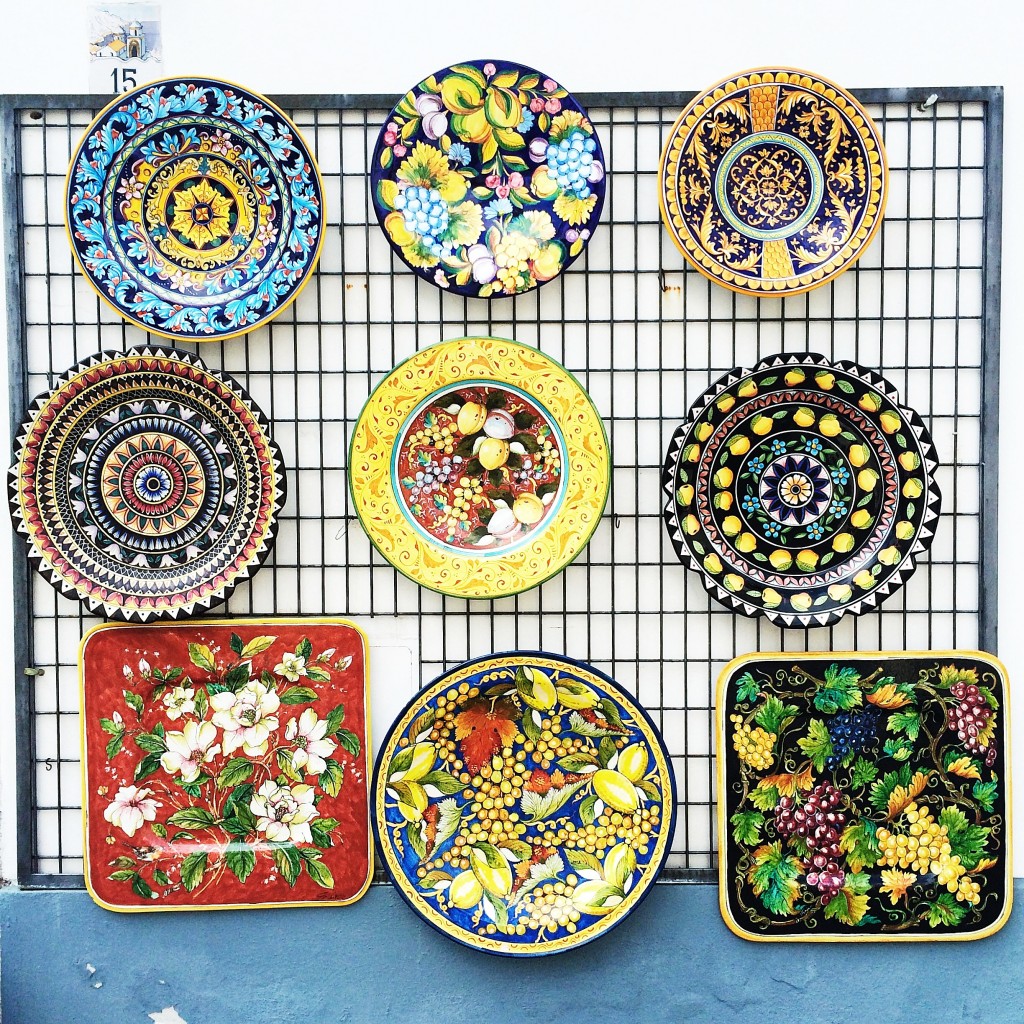 Positano is filled with everything you would imagine a small Italian village to have: Scooters everywhere, hand painted plates decorating the walls, and beautiful doorways around every corner.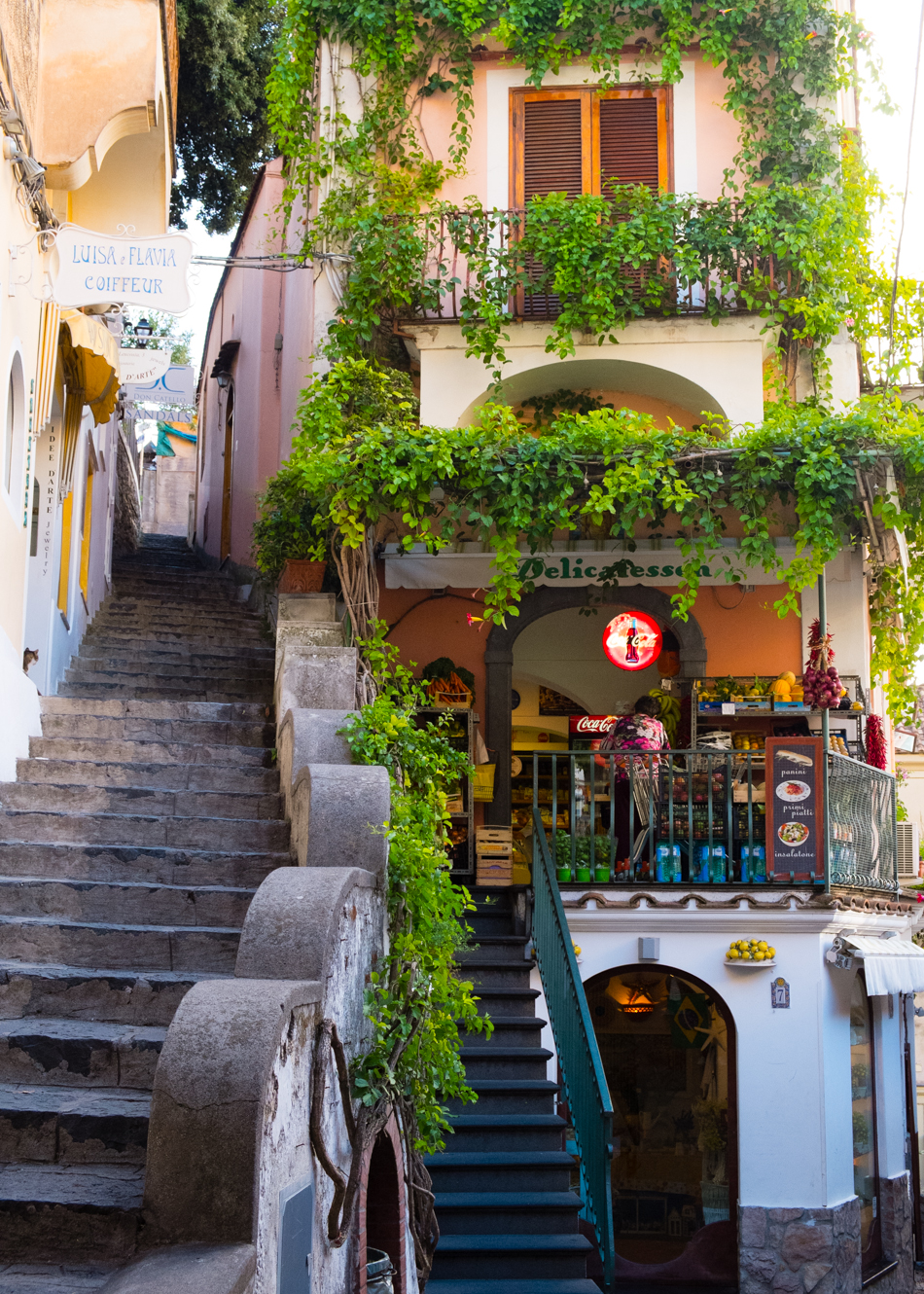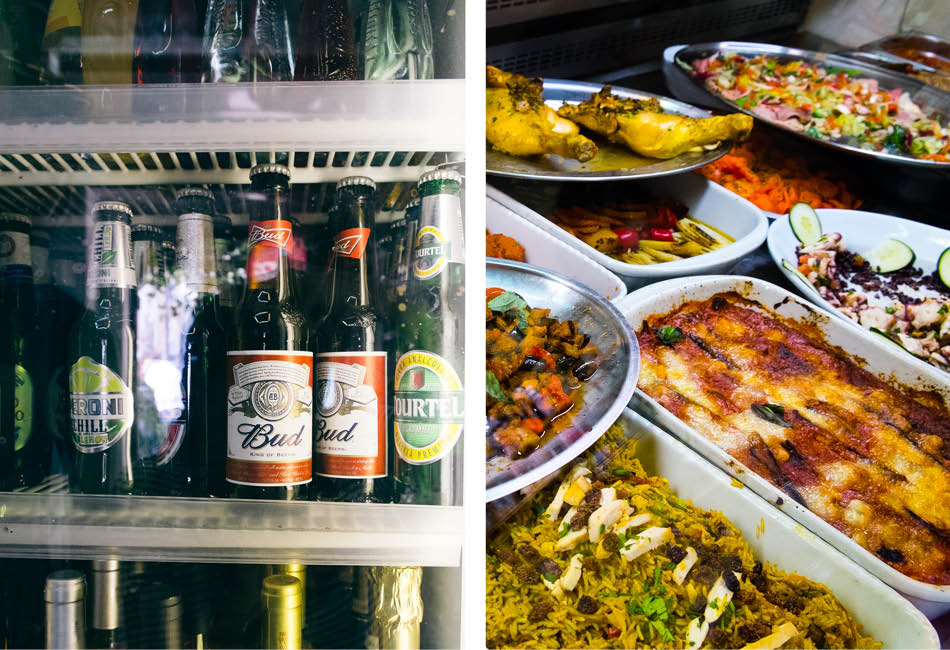 Before heading down to the beach, grab some cold drinks and antipasti to-go from a restaurant or deli. This helps to save money for nice dinners and other activities, and maximizes your time soaking up sun on the beautiful beaches. This delicatessen was our go to for delicious vegetables and fresh made parma and smoked mozzarella sandwiches.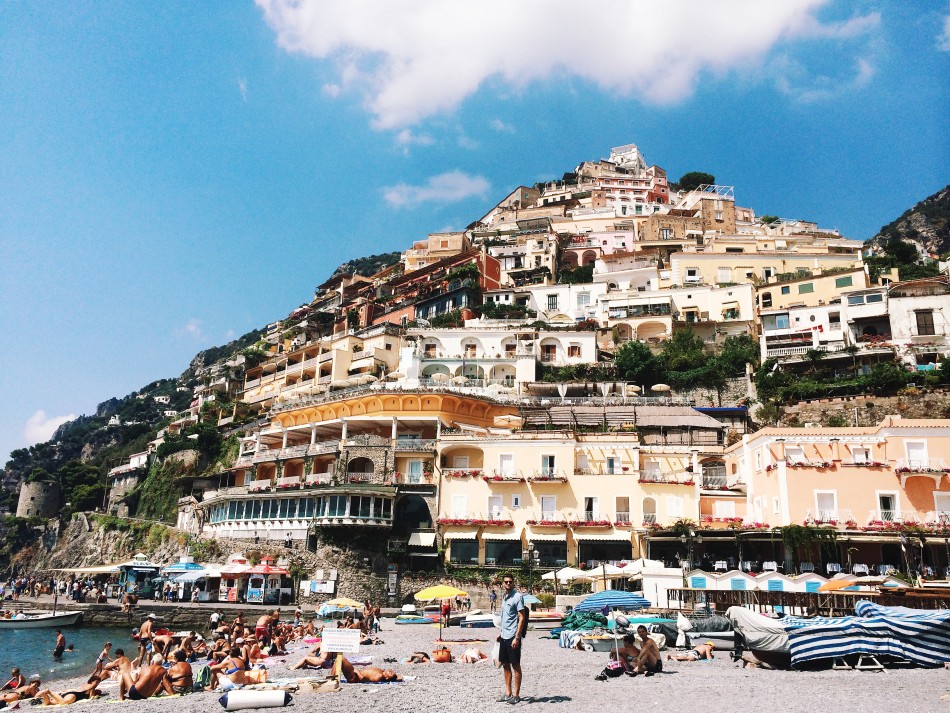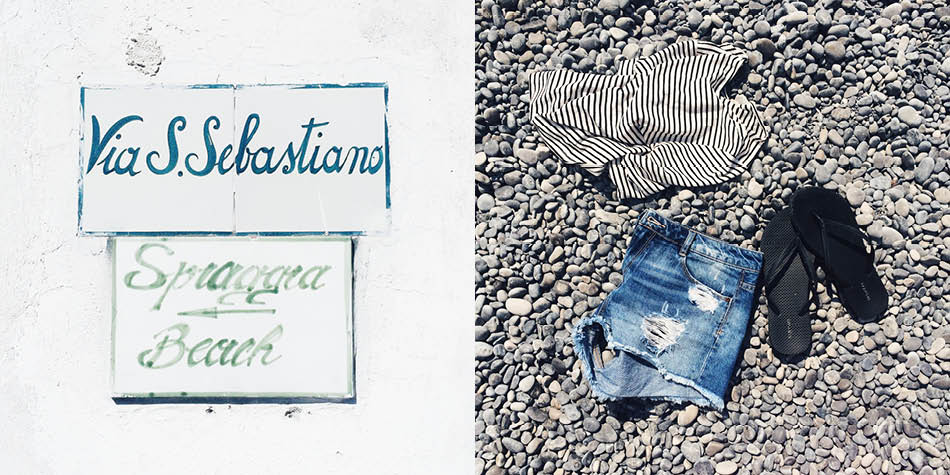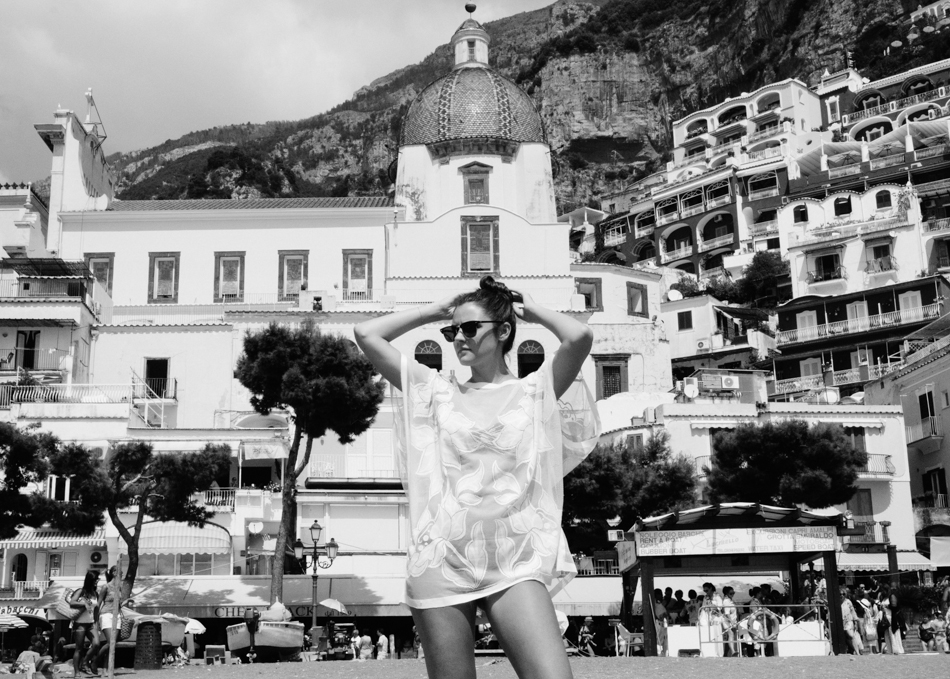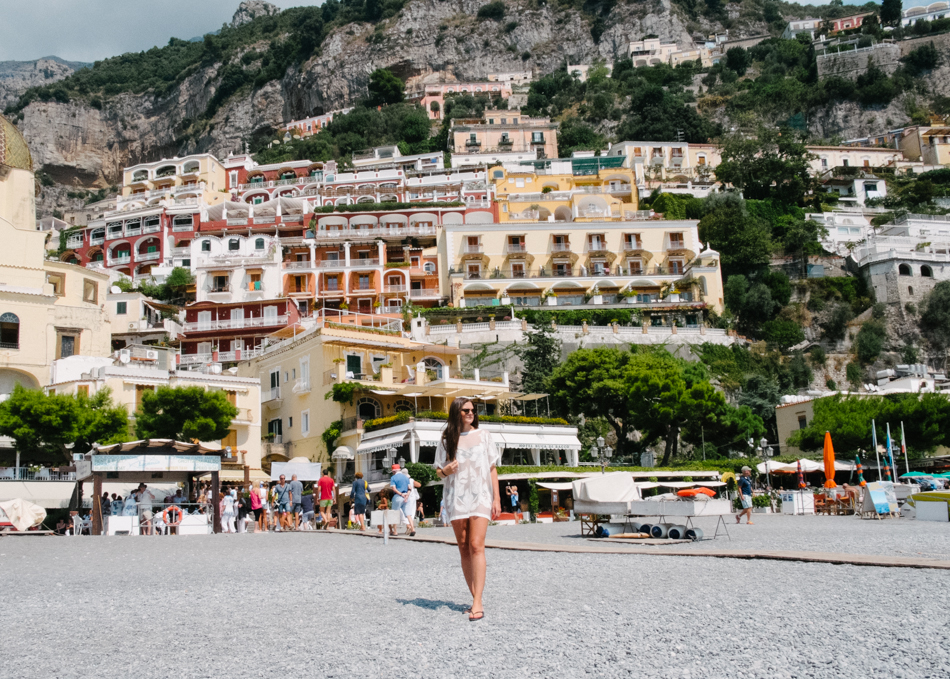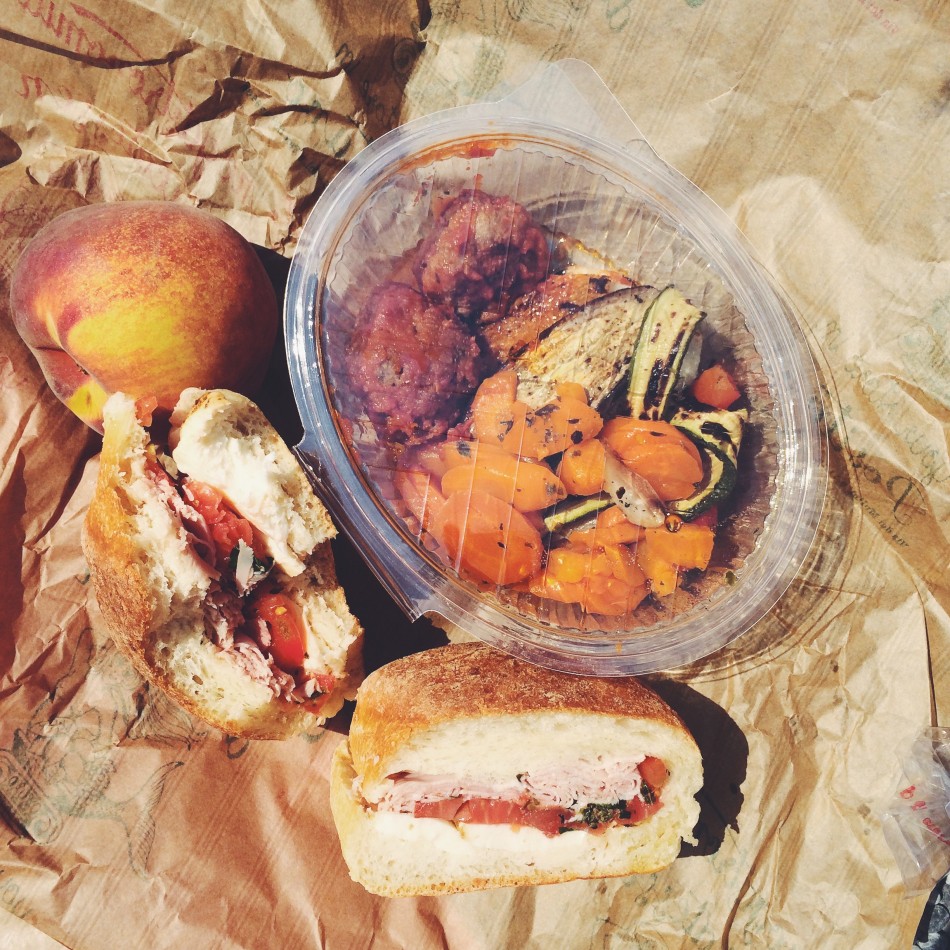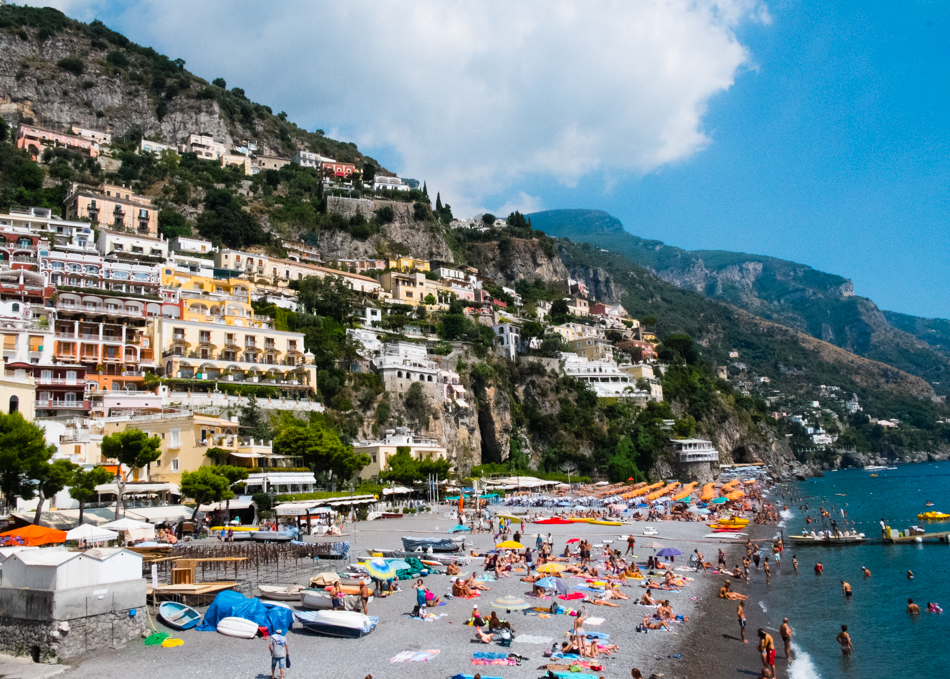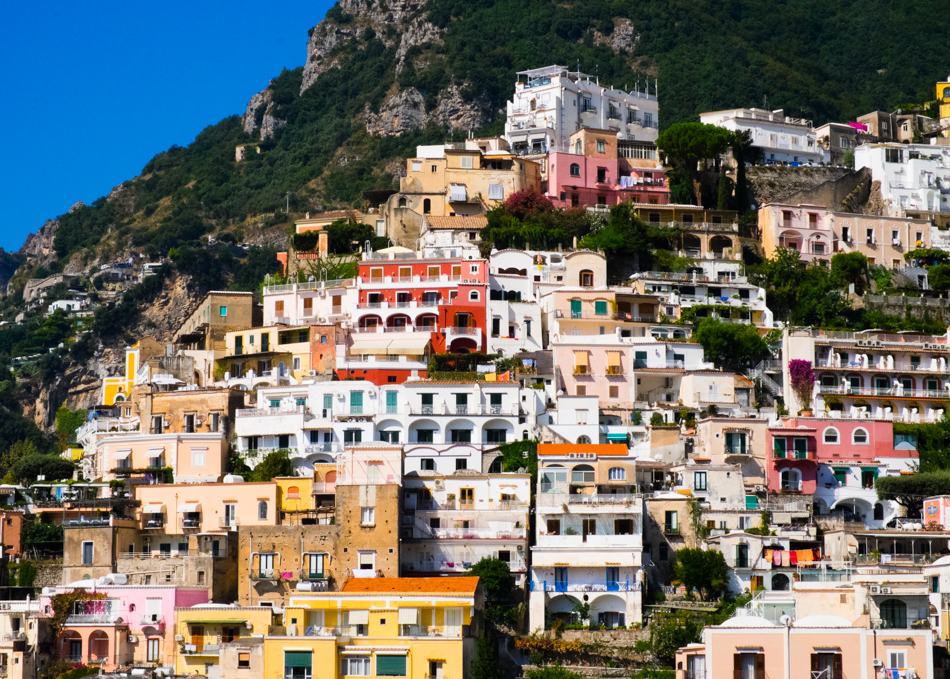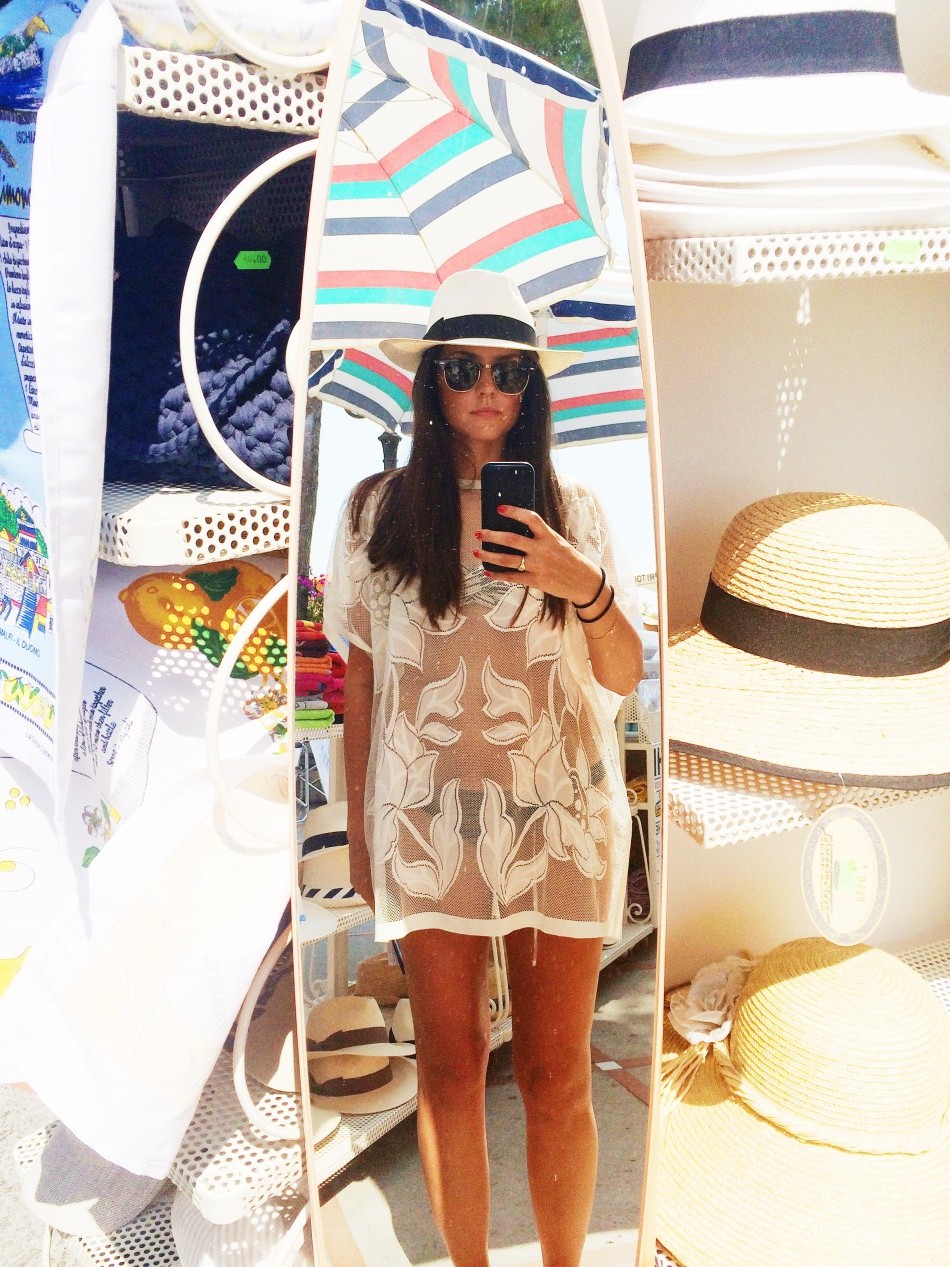 There are so many cute shops along Spiaggia Grande full of souvenirs, fun hats and beach coverups. Beware of high prices though—prime real estate comes with a cost.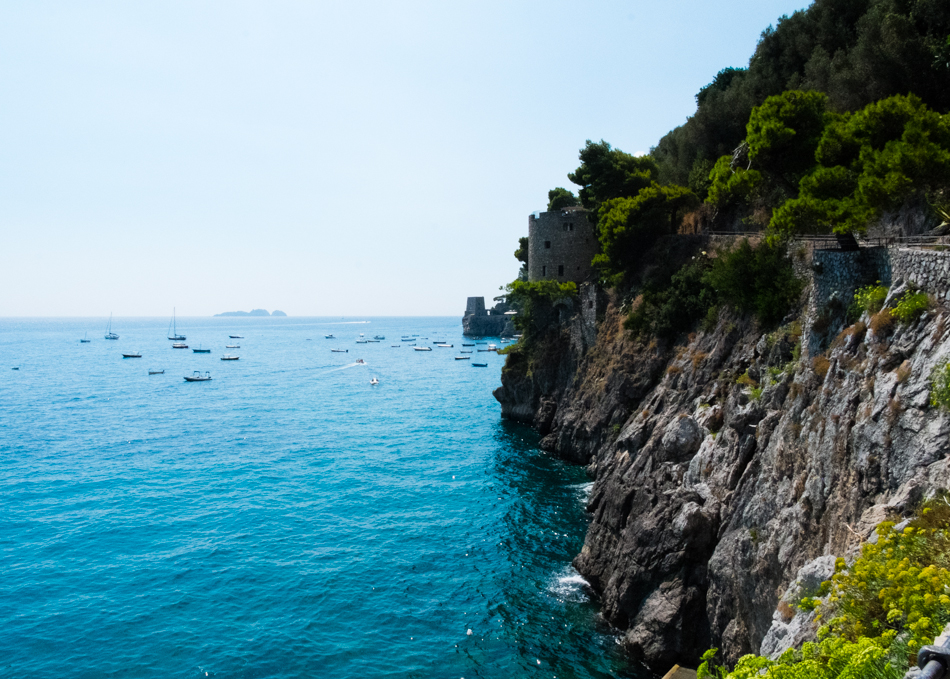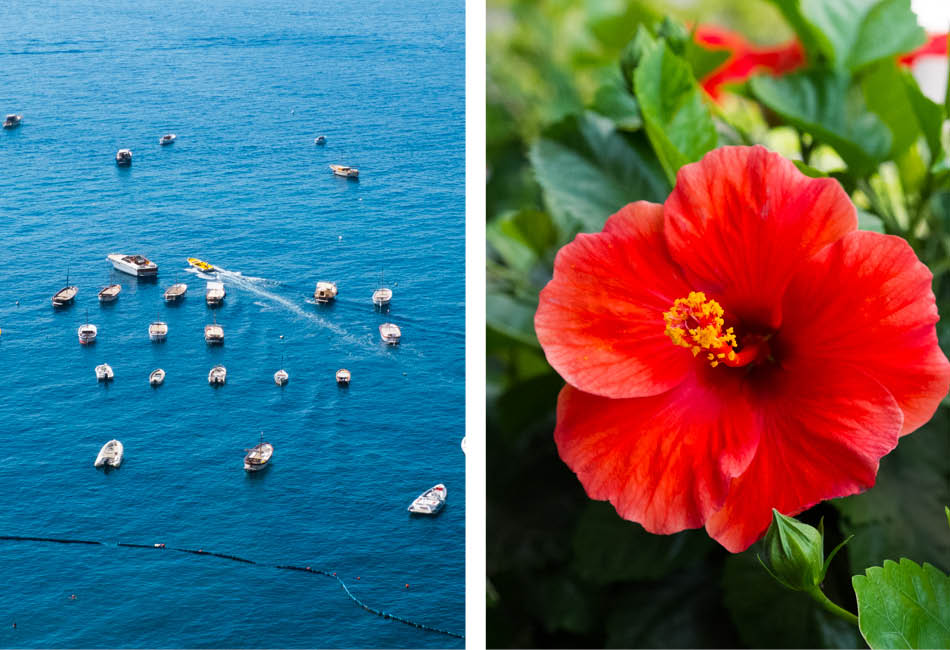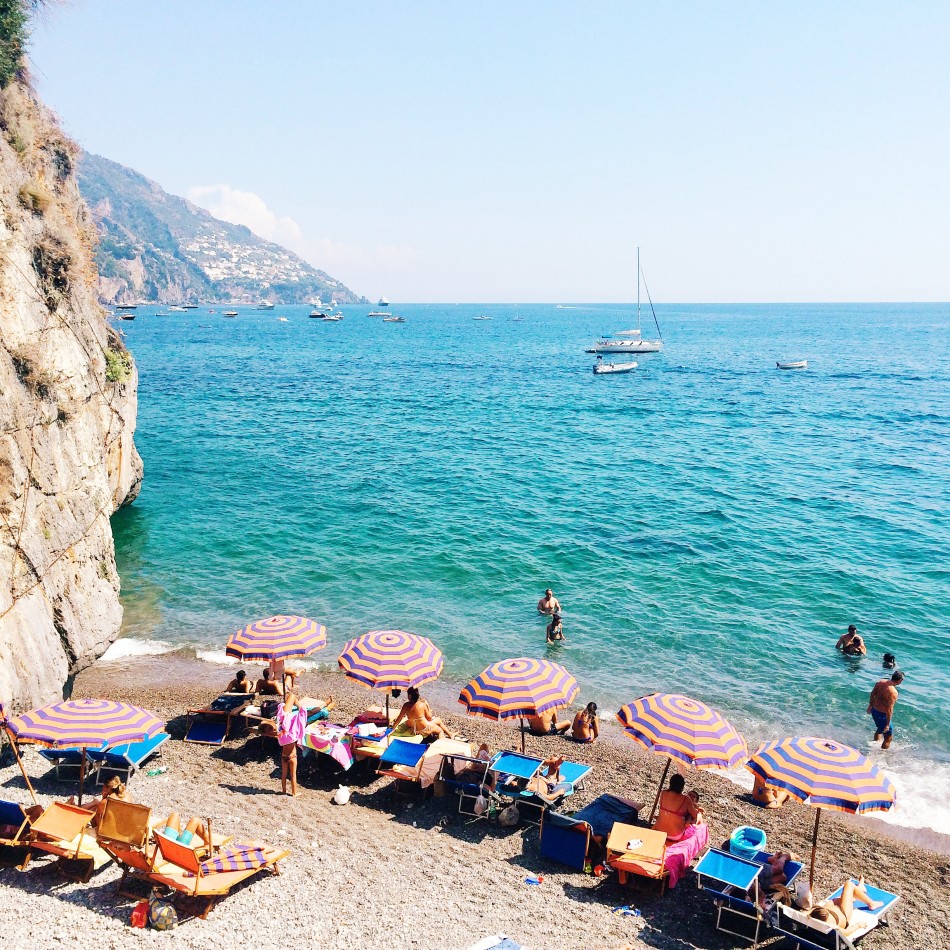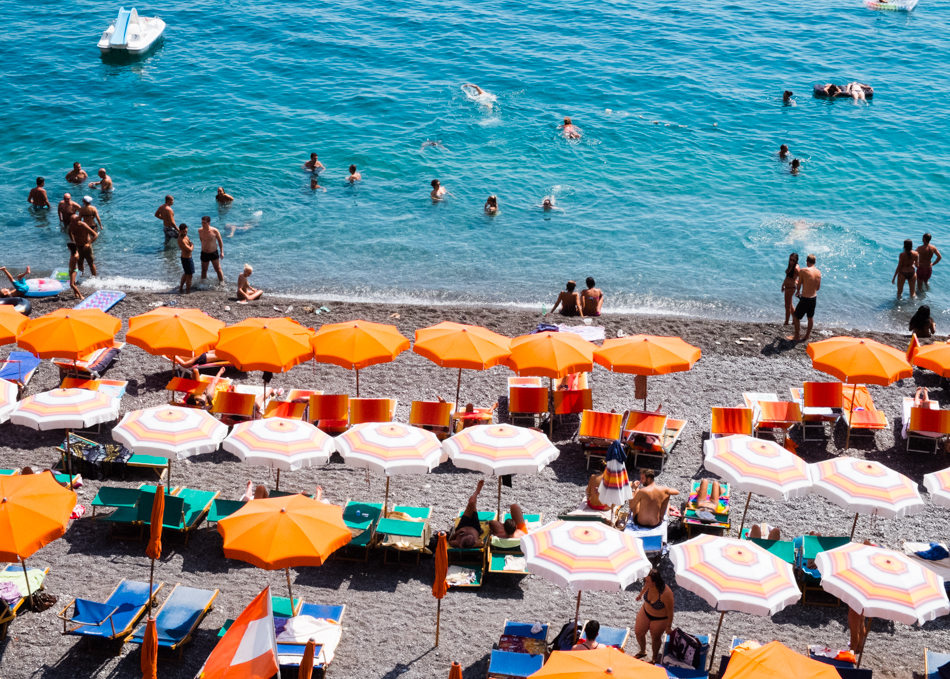 Fornillo Beach, just a short walk from Spiaggia Grande, is smaller and less crowded, with a more laid back atmosphere.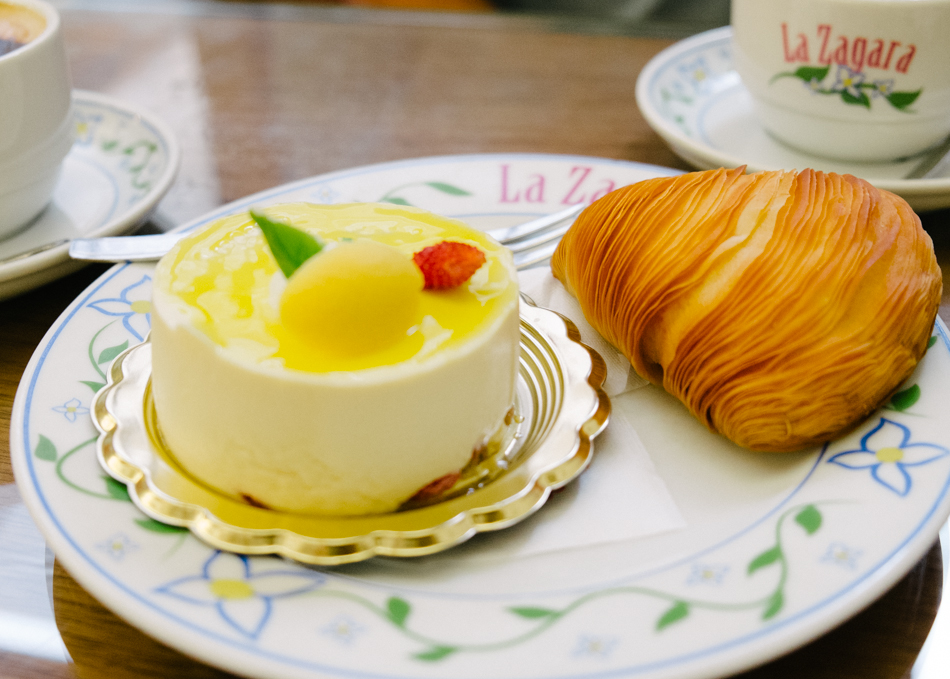 Afternoon treats after a long day at the beach are a must. La Zagara has the best cakes, pastries, and coffee (or cocktails, whichever you're in the mood for). We ordered the lemon tiramisu and my favorite, Sfogliatella.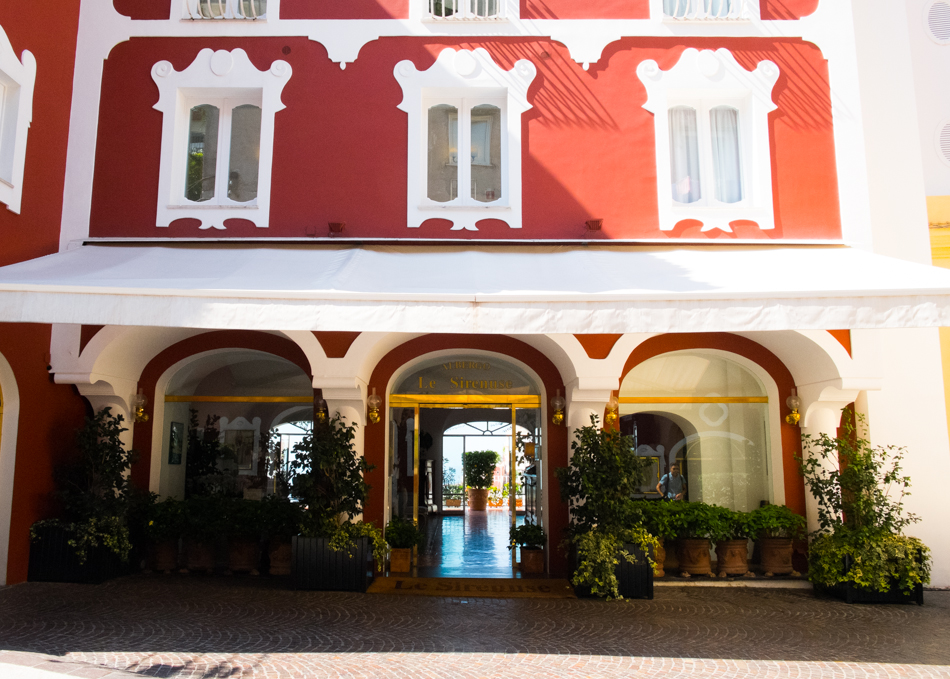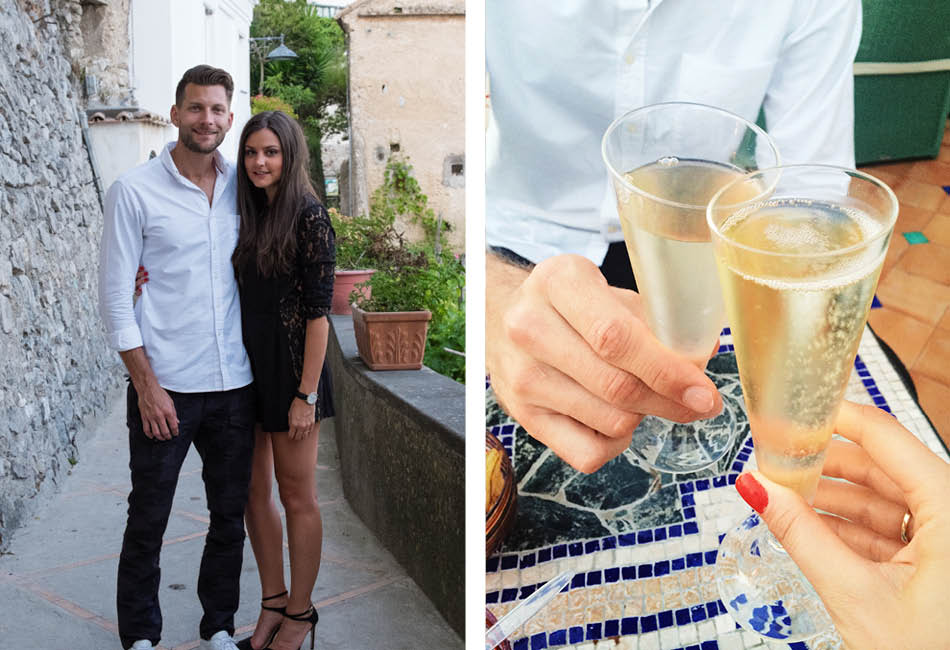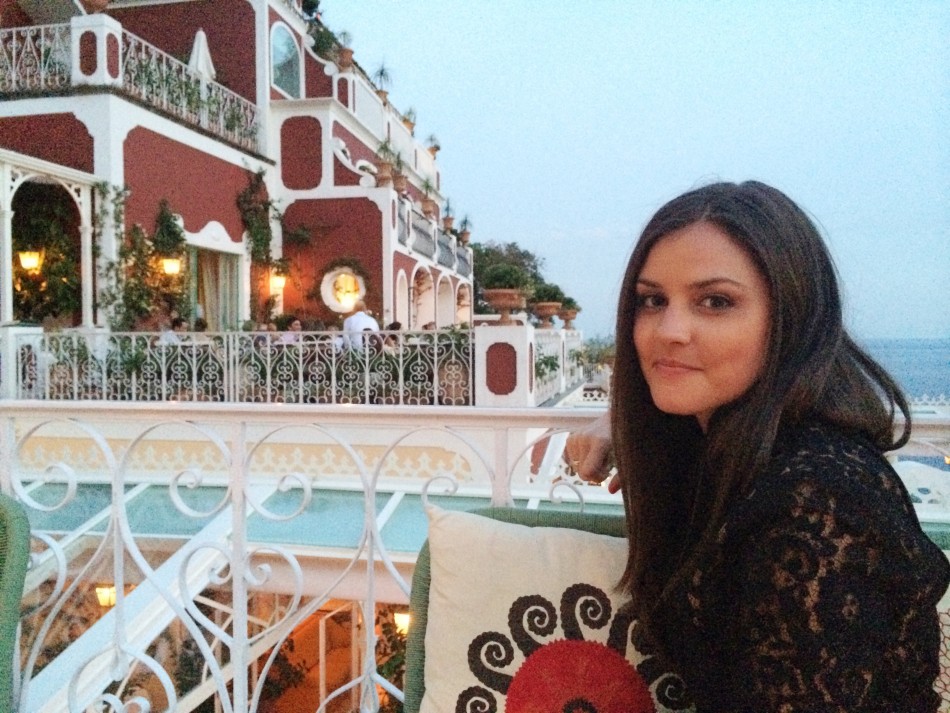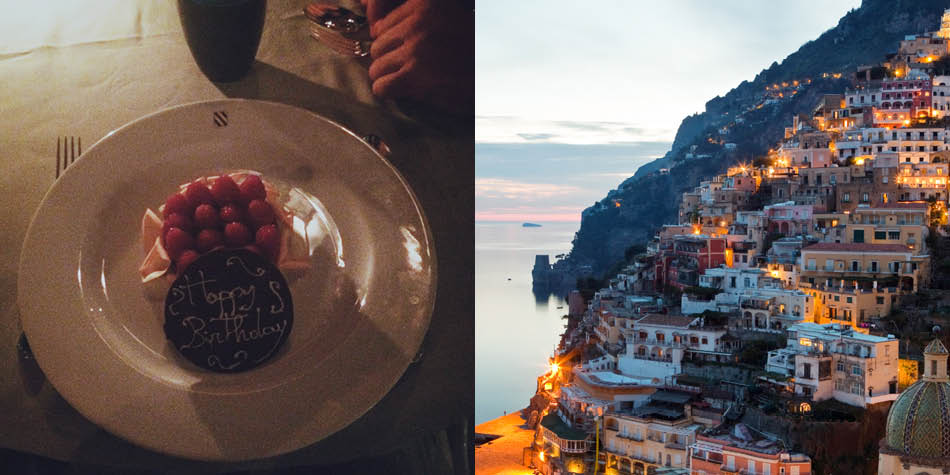 For a special birthday dinner, we made reservations at Le Sirenuse hotel. Between the views, the food, and the exceptional service, La Sponda restaurant was one of the best dining experiences we've ever had. Lit with 400 candles and perched in the middle of the cliffside, the glowing seaside town takes your breath away.
Fair warning: the michelin rated Le Sirenuse isn't cheap, but for me, it was worth every penny. Here are a few tips if you are looking to keep your bill down: the champagne offered as soon as you sit down is delicious, but not complimentary. Kindly decline if you are interested in sipping on something else. However, several things are on the house. Complimentary breadsticks and vegetables with a dipping sauce are brought to the table to start. Followed by a zucchini tartlet and a small soup. So if you are debating on ordering an appetizer, keep this in mind. We choose to share two first course dishes (beef tartare and ravioli) and one second course dish (Sea Bass) and found this to be plenty. I had read that a small dessert is also complimentary and not to order one of your own if you are trying to keep your spending down. Following this rule, we declined dessert but immediately following I was brought a special chocolate and raspberry tart while being serenaded with Happy Birthday. After this, we were each brought three complimentary mini desserts, followed by a complimentary glass of Limoncello. By the end of the meal, we were astonished by how many things the restaurant treats you to. I truly cannot recommend this experience enough.
Also, if you do go, I would advise going an hour early to enjoy a glass of champagne and watch the sun set at the Oyster Bar. They serve the most delicious bright green olives as well as marcona almonds and potato chips with your drinks. It is an interesting combination, but surprisingly the perfect before dinner snack.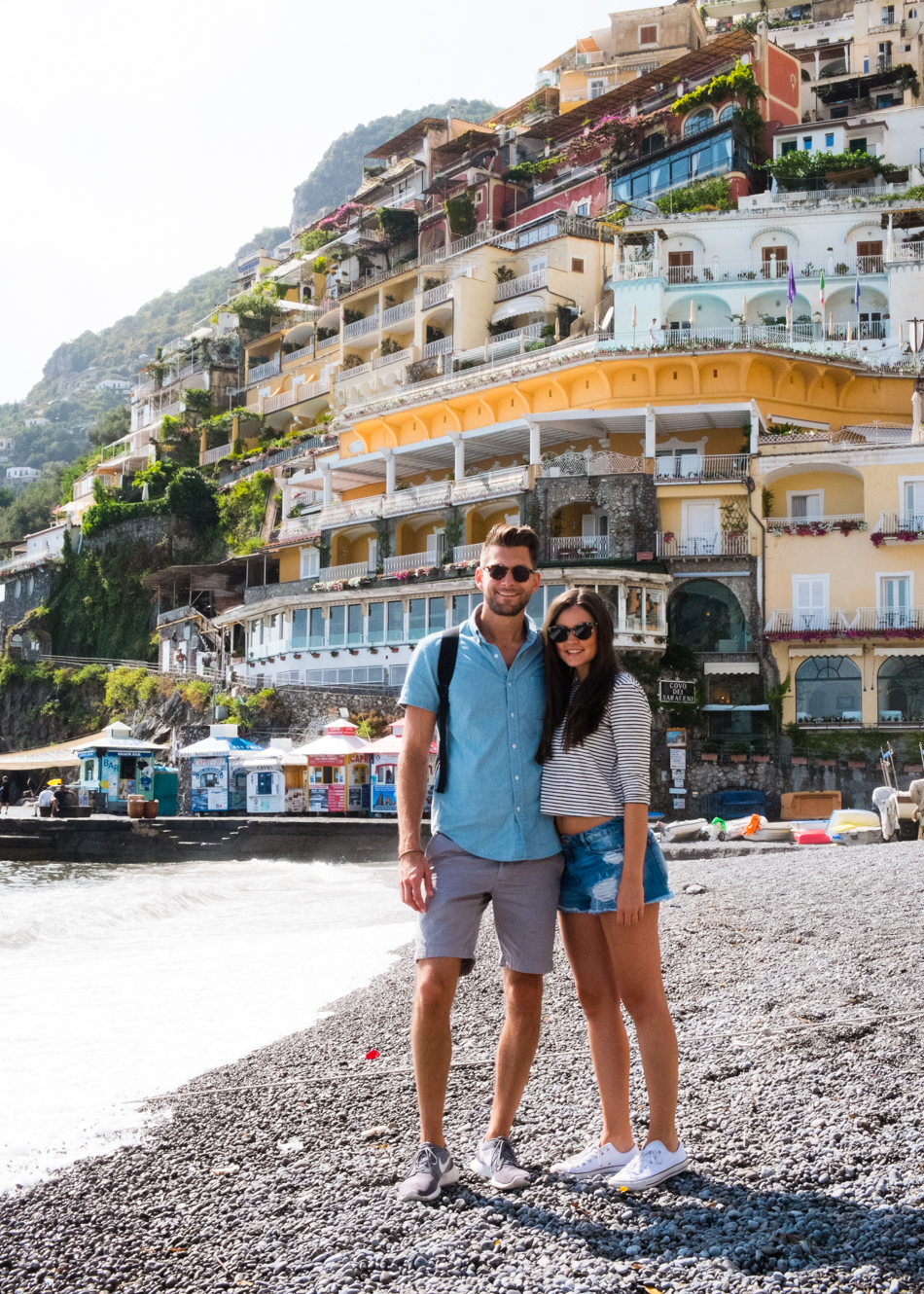 Other places not to miss in Positano:
Il Ritrovo – this restaurant just down the street from our apartment in Montepurtuso was one of our favorite meals on the trip. Nestled up in the hillside, theres a feeling of eating where the locals eat. If you want to sit out on the terrace overlooking the water, be sure to make a reservation.
Da Vincenzo – this family owned restaurant is a local favorite. They have cheap house wine and delicious food. I recommend the mussels and the eggplant parmesan.
La Brezza Cafe – a great little cafe to stop at for an afternoon drink. Customers get 30 minutes of free wifi and a delicious plate of snacks while enjoying a beautiful view of the beach.
Day Trip to Amalfi and Ravello